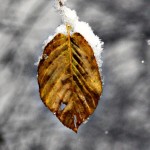 The early snowstorm that affected our area on Saturday continues to wreak havoc for many Pennsylvania residents.  The storm, which dumped between 7 and 10 heavy inches of snow on trees still holding their leaves, knocked out power to thousands of PP&L customers.  As of Saturday night, PP&L said that about 200,000 customers were without power.
Fortunately, as of 7:30 AM this morning, only 59 households in Columbia County and 20 in Montour County were still without power.  This was down from 1652 in Columbia County and 100 in Montour County as of 7 AM yesterday.
Customers to the southeast have not been as fortunate with 61,368 households without power in Lehigh County and 24,479 in Northampton County.  However, PP&L tells us that they are working around the clock in difficult conditions and have already restored power to 186,000 customers.
Photo by Bob Rush