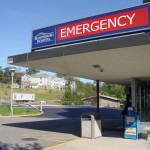 As Tropical Storm Lee rained on Bloomsburg, people worried about water rising from Fishing Creek and the Susquehanna. What would happen to the low lying areas of the community? No one gave a thought to the higher ground. Four employees of The Bloomsburg Hospital: Chuck Andreas, Scott Tanner, Brad Lurowitz, and Rick Millheim discovered that water from above is just as threatening as water from below. Their efforts in the early hours of Tuesday morning prevented the water running off the the hills above The Bloomsburg Hospital and into the Emergency Room.
Andreas, Director of Security for the hospital, recalled, "I got a call from a guard at 2:30 in the morning saying excessive water was running off of the hills, over the helipad, and approaching the ER area. Water was probably within an hour of entering the ER if no action was taken."When Andreas arrived at the hospital he saw the danger immediately. "There was 2 ½ – 3 feet of water running across the helipad. And it wasn't just water. It was mud."Andreas, along with maintenance crew Tanner, Lurowitz, and Millheim, worked through the next few hours using whatever was at hand to prevent water and debris from entering the hospital. "We didn't have any sandbags," Andreas explained, "so we used bags of road salt [used for winter de-icing] and made a dam out of those."
Pieces of lumber, plywood, and whatever else was on hand were also used to direct the water away from the emergency rooms and down Hospital Drive instead. Throughout the early morning hours the crew worked to keep the hospital emergency entrance clean and dry.
Although the dam didn't look like much, Andreas said it served its purpose well. "The dam … it held. It held."
With the dirty water diverted, the security and maintenance teams worked to help solve another problem: getting clean water into the hospital. With clean municipal water no longer available, tanker trucks began arriving every four hours. "Sprinkler systems, sterilization, cleaning, all that needs water." Andreas estimated that 25 deliveries of clean water were made by truck, in excess of 30,000 gallons: "We had one truck parked, where the clean water was held, and new deliveries were then pumped into that tank."
Throughout the morning and in the days that followed, Andreas reported that at no time was Bloomsburg Hospital without clean water or electricity. "We kept the generators running. We ended up staying about 25 hours that [first] day."
When asked how the hospital was running at present, Andreas answered, "Things are better, getting back to normal. They pretty much are like they were before. It was the unity of security and maintenance that pulled us through. It was quite an evening."