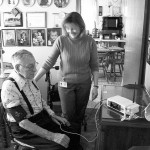 HARRISBURG, Pa. — The losses following Pennsylvania's storms and flooding last month may be magnified for the elderly.
Seniors previously living on their own may be dependent on others for food, shelter and the necessities of daily living. Those used to assisted living may face upheaval in their normal routines or a change in their usual caregivers.
Additionally, the stress of the disaster itself can cause significant challenges.
Symptoms of stress unique to the elderly include:
Reliving events in their lives when they were traumatized or suffered severe losses.
Fear of losing their independence or self-sufficiency.
Fear of a decline in health and limitations on mobility.
Worry about limited financial resources, time, and physical ability to rebuild.
Fear of being put in an institution.
Withdrawal and isolation from family and friends.
When working with older adults after a disaster, it is important to:
Provide consistent verbal reassurance.
Assist them in recovering their physical possessions.
Return them to familiar surroundings with friends and acquaintances as soon as possible.
Make sure they have needed medical and financial assistance.
Help them re-establish social networks.
Monitor their nutritionaland medication needs.
For more information about behavioral health services available in your area, contact your county crisis hotline or mental health office. If you or someone you know is having thoughts of suicide, contact the National Suicide Prevention Lifeline at 1-800-273-TALK (8255).
Additional information about this disaster is available at www.fema.gov, and www.readypa.org.
Article courtesy of FEMA
Photo courtesy of Bloomsburg Health System