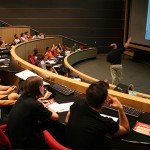 Has cabin fever already struck? Looking for a new hobby? Old dogs as well as spring chickens can learn new tricks and expand their horizons everyday in Bloomsburg:
BLOOMSBURG UNIVERSITY MINI-COURSES
700 West Main Street, Bloomsburg
(570) 389-4420
From Water Coloring to Crime Scene Investigation, Welding to Aikido, Sign Language to CDL, Bloomsburg University's Continuing Education Department offers a wide array of noncredit, short-term courses for adults and children. Download their course catalog online for details. (Note: Classes scheduled for the Magee Center have not been cancelled, only relocated.)
THE CHILDREN'S MUSEUM
2 West 7th Street, Bloomsburg
(570) 389-9206
This educational, hands-on museum has Saturday workshops on a variety of subjects for your little information sponges. November 5th is "Science Saturday" and November 19th will be "Living History Day." Check their website for more info and future dates.
THE MOOSE EXCHANGE
203 West Main Street, Bloomsburg
(570) 317-2596
Bookbinding, Indian Cooking, Stop-Action Animation, Yoga, and Robotics is just a sampling of the classes available here. Many classes run one to five sessions, some private art instruction also available. Check their website for details.
SCHOOLHOUSE MUSIC
1906 Montour Boulevard, Danville
(570) 275-4949
Have you got the music in you but need to learn how to let it out? Lessons available for a wide range of instruments including guitar, bass, clarinet, sax, dulcimer, banjo, and drums from experienced instructors. Call instructors listed on the Schoolhouse Music website by instrument specialty for more details.