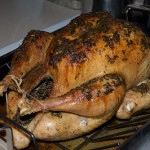 This week, "Remember When" is taking a trip to the dining room table in honor of (of course) Thanksgiving.
Growing up in Bloomsburg, Thanksgiving for me always meant dinner at my grandparents' home with a roasted turkey (the only turkey dinner we had all year), mashed potatoes (my mother was in charge of them as there were never any lumps when she was at the hand-mixer), gravy, stuffing (Stove Top, because my uncle and I insisted on it), cranberry sauce (of course), the most sugary sweet corn casserole imaginable (because my grandmother has an unquenchable sweet tooth) and broccoli salad (because it sounded healthy, I guess).
My grandmother usually made a couple of pies for dessert and the first hint of what they would be was when you came in the back door and saw them cooling on the porch.
————————-
Every family has their own traditions but sometimes, the region or heritage of the family influences the menu. Here's what our own Kristin Zeisloft Camplese remembers:
"I remember gathering around my grandparents' table (and the kids' table) with aunts and uncles and lots of cousins. I don't remember much about the turkey — only the sides, which included a gigantic bowl of Mashed Potatoes, Creamed Corn out of my grandmother's blue dish (it was almost exclusively reserved for that purpose) and Baked Oysters, which were a Zeisloft family tradition and a treat reserved only for the holidays. They were covered in crushed up crackers and lots of butter and most years, I only ate the cracker crust part. I learned to enjoy the oysters later on — but I always remember that my grandfather or someone in the family would have to make a trip to Baltimore to pick up, and then hand deliver, the fresh oysters."
————————-
Having to travel to see family was an eye opening experience for Cole Camplese:
"My parents weren't from Bloomsburg so each year when I was a kid the three of us would pile into the car and travel to either my Grandparents' homes in either Elkins or Wheeling, WV. They were stark opposites of each other! My Father is the son of immigrants, my Grandfather was Italian and my Grandmother was very Portuguese. This created a radically different type of meal than what most everyone considers "traditional." It was always amazing with turkey, homemade pasta, sauce, a giant salad, and the crown jewel, my Grandmother Camplese's Portuguese Stuffing (I think we'll share that recipe this week as well)! There were always so many people around the table laughing, talking, eating, and hugging. A great way to learn about family. Traveling to Elkins, WV to visit my Mother's parents was very much in line with what the traditional American Thanksgiving looks like — a perfect turkey stuffed with dressing, amazingly creamy mashed potatoes with homemade gravy, and fresh frozen corn. What I loved about having those two experiences is that my Thanksgivings today borrow from both."
————————-
The Bloomsburg Daily's resident photographer, Bob Rush, has these Thanksgiving memories from across the Delaware in Phillipsburg, New Jersey:
"When I was a kid we lived on a farm. Every Thanksgiving we would wake up early and my fathers friends would come over and we would all go small game hunting. We would come back to a small lunch and go to our high schools football game. Phillipsburg, NJ versus Easton, PA. We would end the day at someone's home for a BIG FEAST."
————————-
More often than not these days, I'm somewhere other than Bloomsburg during the holidays. When I'm in Los Angeles, a friend's family takes me in for holiday meals and their tradition is baked fish and an array of vegetable side dishes.
While in New Orleans, it seems to be law that you must deep fry your turkey – though recipes and methods vary from cook to cook. I had one patriarch explain to me that the trick is to go with many small birds, instead of one huge one, and to dry rub them first, then flash fry for no more than eight minutes before wrapping in foil and finishing on a grill for an hour.
Another family's tried and true method was to take one large bird and sink it into the deep fryer until finished. Both methods, however, yielded almost identical results: a moist on the inside, golden crisp on the outside Thanksgiving bird.
What are your  family Thanksgiving traditions? Add to the conversation by commenting below.