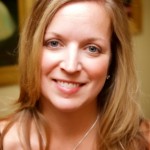 As a Thanksgiving treat, we've established a partnership with, Cuizoo. Cuizoo is a local food and photography blog by Kristin Camplese. For the rest of the week (and maybe in the future) The Bloomsburg Daily will be featuring recipes to help round out your table. The goal of Cuizoo is to get parents back in the kitchen and to do so in a way that makes families develop an appreciation for real food. Creative marketing has led us to believe that families don't have time to cook, that we need processed food to provide short cuts, that cooking from scratch is hard, and that kids don't eat vegetables. They tell us we are so busy that we don't even have time to squeeze a lemon (so wouldn't you rather buy some Real Lemon lemon juice-esque product?) and we are so incapable in the kitchen that we cannot make a ham sandwich for our child's lunch (so wouldn't you rather buy a Lunchable?). Each recipe we feature here has been carefully selected to help make your Thanksgiving even more delicious than it usually is.
This is my in-laws' famous recipe for the stuffing that is always served at their Thanksgiving table.  It has both Italian and Portuguese roots and is a highly spicy and seasoned dressing.  Don't let the bottle of vinegar scare you off, it is used to slowly saturate the stuffing and most of it burns off, leaving just the spicy tang behind.  This stuffing is generally not baked inside the turkey, but instead in a shallow pan, allowing it to become brown and prevent a mushy mess. The key is making sure you don't skimp on the seasoning.  My husband is our official taste tester and always says it needs more spice and more vinegar, applied in what we call "rounds" as it cooks down.  I'm not sure if it's an acquired taste, as I learned to love it instantly — covered in gravy and occasionally mixed with a bite of cranberry, but I do know that most people who try it fall in love.
Makes a 9×13 pan

1 lb. Hot Italian Sausage
2-3 large onions, chopped
3-4 large cloves of garlic, finely chopped
6 or 7 celery ribs (with greens attached, if possible), chopped
1 or 2 bunches of parsley, chopped
Salt
Pepper
Italian Seasoning (about 3 T total)
Dried Fennel Seeds (about 2 T total)
Red Pepper Flakes (about 1 T total)
Cinnamon
Nutmeg
Allspice
16 oz. Apple Cider Vinegar
1 1/2 loaves of Italian Bread, cut or torn into one inch cubes, and sprinkled with a bit of water
Olive Oil
1.  Remove sausage from casing and cook in a very large non-stick saute pan over medium heat, breaking the sausage up into small clumps.  When the sausage is browned nicely and cooked through, remove with a slotted spoon and place on a paper towel lined plate to drain.
2.  Remove some of the fat that the sausage rendered, leaving about 2 tablespoons of drippings behind.  (Alternately, if your sausage was very lean, add some olive oil to make about 2 tablespoons of fat.) Sauté the onions, garlic, and celery with about 1/2 cup of chopped parsley, 1 t salt, freshly ground pepper, 1 t Italian Seasoning, 1 t fennel seeds, and 1/2 t red pepper flakes.  Cook for about 8 minutes until the onions are translucent.  Add about 1/3 cup of apple cider vinegar, let it absorb and reduce for a minute or two. Remove mixture from pan and place in a very large bowl.
3.  Add drained sausage pieces and bread cubes to the onion mixture in the large bowl.  Season with additional salt and pepper.
4.  In the very large non-stick sauté pan, heat a 2-3 T of olive oil over medium heat.  Take about 1/2 of the stuffing mixture and add to pan.  (I can usually split this recipe into two batches, as I have a VERY large sauté pan, but you might need to do do three batches.) Sauté the stuffing mixture in olive oil, stirring frequently, to allow it to begin to brown.  Add approximately 1 t Italian Seasoning, 1 t fennel, 1/2 t red pepper flakes, 2-3 T parsley, and about 6 T vinegar.  Continue to stir and brown, for about 20 minutes until the mixture is darkened and heavily seasoned.  As you cook, re-season with additional italian seasoning, fennel, red pepper flakes, vinegar, and salt and pepper.  Toward the end of the 20 minutes, add in a generous pinch of cinnamon, nutmeg, and allspice.  Repeat with remaining stuffing and add to a 9×13 pan as each batch is finished.  (This seasoning and frying process seems complex, but it's really not.  In order to make the entire batch, I generally use about 3 T total of Italian Seasoning, 2 T total of fennel, and 1 T total of red pepper flakes.  And I generally go through a 16 oz. bottle of apple cider vinegar.  This seems weird, but as you fry the stuffing, it soaks into the bread and burns off, so you are not left with too much of an intense vinegar flavor. And whenever I ask my husband if it is nearing the correct flavor, he always indicates that I need "one more round" of all the spices, salt and pepper, and vinegar. It's zesty for sure!)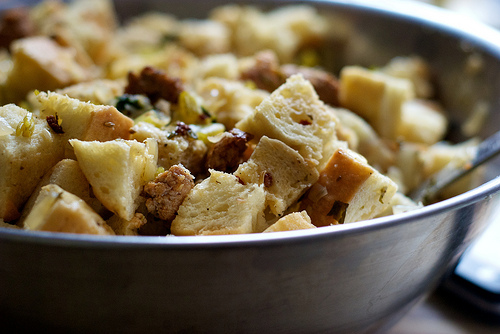 5.  When you are finished browning all of the stuffing on top of the stove, add several handfuls of additional chopped fresh parsley to the stuffing mixture.  At this point, you can either refrigerate it (can even make it a day or two ahead if you like) or bake it immediately.  I then generally bake at about 350 degrees Fahrenheit, covered for about 20 minutes, and then uncovered for an additional 10 minutes.  (You just want to reheat it thoroughly and brown it more on top.)