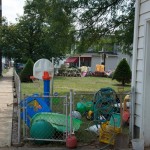 When Penny Pomfret, director of Magic Carpet Preschool in Bloomsburg, dismissed her students early on September 7th from their Barton Street location, she was thinking about flooding but was focusing on the potential for losses in the school's basement. "I did not realize how destructive the flood would be until I woke up Thursday morning after it had already happened. We went to bed Wednesday evening believing [the river] would crest at 28 feet, much less than Agnes."  Because the school's current location was not flooded during Agnes, the main concerns were water in the basement and the potential loss of the furnace or hot water heater.  After the river and Fishing Creek hit record levels, the reality of the damage was devastating.
The basement was inundated and even the classrooms on the main floor had approximately a foot of water.  The majority of all classroom materials, toys, books, furniture, and supplies were lost.   The school was closed for seven days and was forced to relocate to the Wesley United Methodist Church, which generously provided space to both Magic Carpet Preschool and the Columbia County Child Development Program.  According to Pomfret, "Parents, children, and teachers adapted well to our new surroundings and the people at the church have been most kind and welcoming to us. Pastor Jay Jones even let us store our salvageable belongings in his garage!"
And even though the mission of the school is to facilitate learning for 3-5 year olds with a hands-on problem solving approach, no one was prepared for the amount of "hands on" and "problem solving" that they would all have to engage in.   The facility would need to be gutted and essentially rebuilt.  And because the school was founded in 1973, nearly 40 years of acquired learning materials were lost.
But Pomfret says the network of people who were concerned about Magic Carpet Preschool instantly stepped up to help with the rebuilding process, "In the days following the flood, there was a huge outpouring of support from alumni, parents, and friends on various Facebook sites. It was heartwarming and firmed up my commitment to continue the school.  Many alums, parents, friends, and people who heard about the school have sent contributions, toys, and supplies."
Two such people were Sue Van Kirk and Tricia Cossick, both of State College, who found out about the disastrous flooding primarily through Facebook.  Van Kirk grew up in Harrisburg where river levels were often talked about.  In addition, her parents were from Mt. Carmel and her mother and grandmother both have degrees from Bloomsburg University.  She talked with her own daughters and her Brownie Troop about the losses and the children instantly wanted to do something.  "The kids were saying things like, 'I feel really bad for the children who lost everything in the flooding.  They don't have any toys. Can we do something?'"  Van Kirk sent an email to troop parents and they gathered items at their next two meetings.  In the end, 7 girls collected over 100 items for the school:  a dollhouse, a princess pop-up tent, puzzles, books, art supplies, and more.  According to Van Kirk, who hand delivered the donations to Pomfret, "Even I was surprised and touched by the generosity."
Tricia Cossick also learned about the severity of the flooding through Facebook.  Cossick is the Director of OCC Montessori Preschool, so she was instantly sympathetic to a preschool losing nearly everything they owned. "When I heard that a longstanding quality preschool program had been swept away in flood waters, I felt like I wanted to do something to make a difference."  Cossick is now in contact with the parents from her school, as well as other State College preschools in order to collect gently-used preschool furniture, educational toys, and books to donate to Magic Carpet, as well as other affected preschools in the area.  She is currently storing the items and will deliver them to Bloomsburg when the collection is complete.
While Pomfret had some hesitation about reinvesting in the current location, she feels a commitment to the preschool children and their families.  "No one can predict the future.  Right now we are concentrating on getting Magic Carpet up and running at Barton Street."
Apparently that concentration has paid off.  Pomfret now reports that the Barton Street location of Magic Carpet will be re-opened to students on Thursday, November 3rd.  Pomfret is amazed, "The outpouring of support has been unbelievable!"
Magic Carpet Preschool can be contacted at 570-784-9282 .  The Columbia County Child Development Program can be contacted at 570-784-8618.
(Full disclosure:  Kristin Zeisloft Camplese is an alumna of Magic Carpet Preschool)