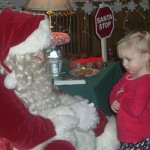 It is the first day of November and many thoughts are now turning to the holidays.  Flood victims are the primary concern as the holidays can be a difficult time for those who have suffered major losses.  One victim who no one has been talking about, however, is Santa Claus.  Unfortunately, when the flood waters came, even his cottage wasn't spared.  Stored at the Public Works building in Bloomsburg, it incurred significant damage and is currently being repaired by those in the Public Works Department.
We talked with Tim Wagner from Downtown Bloomsburg Inc. (DBI, which runs the cottage) and he indicated that about two feet of water got into the cottage. With such extensive destruction in the town, no one's thoughts quickly went to the cottage, but recently Public Works Superintendent John Barton went into to take a look and found the damage.  The drywall, wiring, and carpet had to be pulled out and according to Wagner, "Santa's cottage looks like most houses in Bloomsburg right now."
Bloomsburg Carpet donated carpet for the interior and work is being done to install the new drywall, put in the carpet, and do some last minute painting.  But Wagner said that "when we started thinking about all of the stuff in there that made it 'homey,' things started adding up."  The following items are needed:  Santa's chair, an ottoman, 1 or 2 end tables, a small desk, a framed mirror, and a 2 foot or 4 foot baseboard electric heating unit.  While not entirely necessary, Wagner indicated that these items really make it feel like a cottage when children arrive.
And Downtown Bloomsburg, Inc. and the Town of Bloomsburg are under a strict deadline as the repairs need to be completed by the Tuesday or Wednesday before Thanksgiving (November 22nd or 23rd), so it is ready for WHLM's Parade of Lights on Friday, November 25th.  Wagner is confident though. "It will get done and there will be a Santa's Cottage.  It's just not acceptable to not have it."
If you would like to make a donation or purchase an item to help Santa and the town out, please contact Tim Wagner at Wagner's Trophies at 570-784-6025.  Donations are tax-deductible.   In addition, the DBI is looking for a tree donation for next to the cottage.  If you have one that you might be willing to part with, please contact the town or Mr. Wagner.
Photo by corsi photo