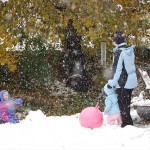 The National Weather Service in State College has issued a Winter Storm Warning for all of Columbia County from 2 am-10 pm Saturday due to expected snowfall of 4-8 inches.
The snow should start late tonight/early tomorrow morning, and may be mixed with a bit of rain at the onset. The snow should pick up and possibly become heavy at times tomorrow afternoon. Temperatures during the snow will be right near freezing, so the snow will be the heavy, wet variety.
This raises two fairly serious hazards. First, many trees still have their leaves, and heavy, wet snow will weigh them down since the leaves will help the trees hold the snow better than bare branches. This raises potential for widespread power outages as the large branches collapse under the weight of the snow and bring down power lines. Think of someone pouring wet cement on your outstretched arm, you can hold your arm up no problem. Now, imagine holding a serving tray on your outstretched hand and someone pouring wet cement on the tray – it would be very hard to hold up your arm. Same idea with a tree.
Second, heavy wet snow such as what is expected can be very slippery for drivers. If the snow falls hard enough, it should accumulate on roads. Travel is strongly discouraged tomorrow.
There is the possibility this could be the largest snowstorm to hit Bloomsburg in October; the average snowfall for the entire month of October at the closest official reporting station, Williamsport, is .1 inches. There is, of course, a chance that this potentially historic storm ends up a miss, which would be great for weather-weary Bloomsburg residents.
However, this is a year where Pennsylvania has seen 30 tornadoes, record annual and monthly rainfall, historic floods, earliest accumulating snow at higher elevations in some parts of central Pennsylvania, record July heat, and even an earthquake. A ridiculously early snowstorm would certainly fit in with the rest of those events.