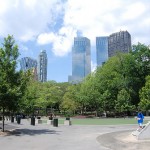 On September 1st, 2001, I moved in to a beautiful brownstone in the Hamilton Park section of Jersey City, NJ. The landlords were a couple who lived on the bottom two floors. My partner and I lived on the top two floors. We, like most people in our neighborhood, were daily commuters into New York City on a subway system called the PATH (Port Authority Trans-Hudson) line.
On Tuesday, September 11th, I had the rare opportunity to sleep in and work from home for a few hours. Everyone else in the house left for the city at their usual rush-hour time.
Having just moved to our new place, we were still unpacking and still waiting for the phone, cable, and internet to be hooked up. Sometimes, Ignorance can truly be bliss:
Even though I was only a mile – literally just across the river – from the World Trade Center and could see the towers from the end of my block, I didn't know what happened until it was already over.
One of my former landlords (and still great friend) from that beautiful brownstone sent me this link earlier in the week and it brought me right back to that day, sitting on the front stoop, waiting for someone – anyone – to come home. The tunnels were closed to non-emergency vehicles, the subways collapsed and flooded (it would be two years until the PATH service was fully restored). But all three of the other occupants of 216 8th Street made it back home that afternoon. Two of them were boatlifted from the 38th Street pier by a Waterways ferry and the third was boatlifted from Pier 11 down by Wall Street by a tug boat.
I wanted to share this video because, like the boat captains who had to do something to help when they saw people in need that day, we all have that instinct in us to reach out and rise to the occasion. And we've proven that this September, ten years after that fateful day.
– Jen Ralston
BOATLIFT – An Untold Tale of 9/11 Resilience