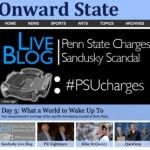 The Bloomsburg Daily thanks Onwardstate.com for their kind partnership and permission to repost portions of their coverage of the events at Penn State. Please visit Onward State's Live Blog for a continually updated stream of news regarding this developing story.
4:51 p.m. – According to Blue White Illustrated, BWI's Publisher Phil Grosz was told by a source that the Board of Trustees will meet tomorrow morning to discuss the status of Graham Spanier.
4:43 p.m. – Congressman Patrick Meehan (R-PA7) published a letter he wrote to Secretary of Education Arne Duncan earlier today. Meehan urged Duncan to launch a full Department of Education to investigate whether federal law was broken by Penn State administration and staff.
Congressman Meehan represents areas of Delaware, Chester, and Montgomery Counties.
4:15 p.m. – According to the Daily Collegian's Aubrey Snyder on Twitter, John McQueary, Mike's father, confirms Mike is coaching this week and has been at practice.
3:55 p.m. – Tom Rinaldi has reported on ESPN that Scott Paterno said, "Joe wants to make a statement, but outside his house or car is not the place to do it."
3:47 p.m. – Chris Fowler just said on College Football Live that Penn State has said Mike McQueary is not around, and is on a recruiting trip. Fowler cited Jeremy Schaap.
2:46 p.m. – As reported by the Patriot News' Sara Ganim, Jerry Sandusky's hearing has been moved from tomorrow to December 7th.