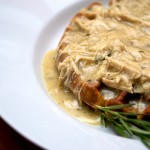 "I know it sounds crazy, but trust me. You're going to love this place," Dominic said as we turned on to Colorado Boulevard.  Of course I trusted him; we'd been friends for over five years at that point and he had yet to steer me wrong when it came to music, movies, or food.
We passed a seemingly endless line of car dealerships, turned on to Lake Avenue, past a few taquerias, and a sad, empty Kentucky Fried Chicken and there it finally was — the restaurant that Dom thought would sound so crazy to me, he kept its name a surprise:
Roscoe's House of Chicken and Waffles.
He turned off the car, nearly vibrating in anticipation of my protests:
"I told you it sounds crazy but chicken and waffles really taste great together!"
As surprised as he was to not hear a mumbling objection from me, that's how surprised I was to find a restaurant devoted to one of my favorite comfort foods in — of all places — Pasadena, California. We bounded out of the car and nearly ran in to the restaurant with visions of waffles and chickens dancing in our heads… only not the same visions. Not at all…
Before I continue this story, let me ask you a question on a different subject altogether: You know how it is when you really love a song and then someone informs you that there is another version – a better version (they say) – and you don't even want to hear it because you feel so protective of the version that you know best?
Walking in to Roscoe's House of Chicken and Waffles for the first time was like stumbling in to a restaurant full of people singing along to Guns N' Roses' version of "Knockin' on Heaven's Door" who hadn't even heard of Bob Dylan.
It turns out that the vast majority of this nation — a nation which likes to consider itself cultured and educated and well-versed in how to eat both chicken-type things and waffle-style products — has no idea what chicken and waffles really are! Those poor fools think that the chicken is supposed to be fried and the waffle covered in syrup!
I'm no culinary historian, but I'm sure that our way is the original way. As a cooking method, stewing must be way older than frying, right? Right. So our way of doing chicken and waffles must be older, too. There you have it – unsubstantiated proof! And when I say "our way" I really do mean "Our Way," by the way. Bloomsburg is the center of the known Pennsylvania-Dutch style chicken and waffle universe. Did you know that? Well I'm saying it's true so I must believe it. But it's not just my opinion that this is a fact: ask that nice lady from Chicago who runs the Molly Pitcher Waffle Shop down in Chambersburg.
Me and my buddy Sue were on a trip down the Lincoln Highway a few years back, looking for gravity hills, haunted taverns, and buildings shaped like what is sold within, when we happened upon the Molly Pitcher. We were hungry, it was open…it was like, meant to be, you know? We went in and opened up a pair of menus and there it was: proper, Pennsylvania-Dutch-style chicken and waffles only they called it "Chicken and Wha?!?"
The proprietress was in that fine day so we winkled the goods from her. She was from Chicago (like I already said) and used to work for the Buckhorn Family Restaurant chain. Eventually, being a good and diligent worker, she was rewarded with a promotion to The Buckhorn Truck Plaza (Exit 232) where, on her first day at work, there was a line outside the restaurant to get in.
"What's going on," she asked and someone explained to her that it was chicken and waffles day. Her response was, "Chicken and wha?!?" But she grew to love them so much that there she is now, in Chambersburg, proprietress of her very own chicken and waffle eatery. And there you are, Bloomsburg. Go ahead and be proud of your chicken and waffles and the vast sway they hold!
But while outside of Eastern Pennsylvania menus containing "Real" chicken and waffles are almost non-existent, the "Fake" chicken and waffles are having their fifteen moments in the sun these days. You can find them on menus in St. Petersburg and Chicago, Phoenix and New York City, Indianapolis and San Francisco. I believe the only reason why "Fake" chicken and waffles are more popular is because taking advantage of franchising opportunities is one thing the Pennsylvania Dutch are not known for. Still I gotta admit — even though it doesn't resemble the original in the least, the "Fake" can be pretty tasty when done right.
Since my first visit to Roscoe's House of Chicken and Waffles, I've had the wrong kind of chicken and waffles in several cities, including New York, where they call it "Harlem-style." This makes sense to me since Roscoe (the man, the myth, the Los Angeles area chicken and waffle restaurant chain owner) is from Harlem. And he has done more to popularize that dish than anyone else I haven't met.
Also, when I lived in New York City, I had more than one occasion to eat of the Harlem-style in Harlem and one place in particular, Londel's Supper Club, had a whole section of their menu explaining the origin of chicken and waffles (the short version: "Harlem," they said). And menus don't lie, do they? Maybe so, because many people, including Chef, Author, and host of "No Reservations" Anthony Bourdain, believe that "Harlem-style" originated somewhere south of the Mason-Dixon line.
I know Anthony Bourdain harbors this popular illusion because I work on a series on HBO called "Tremé," and we have a character on the show who's a chef. And in one episode last season, there was a scene where she (southern girl that she is) made a southern-themed meal at the restaurant where she works. And the meal featured, of all things, fried chicken and waffles.
My hackles raised, I immediately went to the executive producers to explain the error of their ways: how could a southern-themed meal contain "Harlem-style" chicken and waffles? Their answer: "Anthony Bourdain wrote that scene. Take it up with him."
To date, I have not taken it up with him. But that's not to say that I won't if ever given the chance. In the meantime, I will concede that the popular consensus is that "Harlem-style" chicken and waffles are from the south. In defense of my alternate, less-popular version of reality, however, I will add that in all my travels, I have never seen chicken and waffles on a menu together in the deep south — not anywhere that is known for its fried chicken, its waffles, its soul food or southern cuisine. And it's not as though I haven't been looking.
Just last week, I had sweet potato waffles and fried chicken at Gussie's in San Francisco. My significant other has been a professional restaurant reviewer in that city for the last 17 years or so. She thought she was the reigning champ of all things chickeny and waffley because she once did six consecutive weekly reviews of chicken and waffle-themed restaurants. Her editor was not amused.
When I broke the news to her that she had been eating the wrong kind of chicken and waffles all these years, it blew her mind. Just as I would have never imagined doing what Roscoe and his ilk do to chickens and waffles on the same plate, so too could she not fathom the dish that I grew up with.
"Don't worry," I assured her. "We'll go to Bloomsburg. Then you'll understand."
And though she did get to go to Bloomsburg this year, it ended up to be just in time for Tropical Storm Lee. So between the leftovers from the Labor Day BBQ we hosted and the lovely hamburg barbeque sandwiches we were fed at St. John's in Espy while helping friends of friends gut their first floor, nary a chicken-stewed waffle was had. And while we had intended to stay the whole of Fair Week, once the fair was cancelled we got it in our heads that the best thing we could do was leave town earlier than planned and make our drive westward all the more leisurely.
I got the news of the food vendors going rogue on Route 11 while we were parked for the night in Grand Junction, Colorado. We may have both shed a tear to think of what we were missing but … next year …
Until then, we decided to have Kristin Camplese, proprietor of the cooking website Cuizoo, cook up a batch of chicken and waffles and share the recipe for our readers.  This version takes a savory, rosemary-infused Belgian Waffle and tops it with chicken stewed in marsala-laced and butter-rich gravy.  It's a little fancier than some recipes, but the results are divine and elevate a dish — traditionally made with leftovers — to a company-worthy meal.  In the comments, let's talk chicken and waffles.  What's your favorite chicken and waffle recipe? Where's the best restaurant version of it you've had? Have you ever had the "Fake" chicken and waffles and if so, where and what did you think of them?
Chicken with Marsala Gravy over Rosemary Belgian Waffles
Serves 4-6
Note:  These types of dishes are traditionally leftover-based.  Someone would take leftover chicken and mix it with leftover gravy and serve it over some freshly made waffles on day two after a roast chicken.  If you don't do it that way, it is more labor intensive, but still generally worth it.  As with most cooking, it is best with homemade chicken stock, the freshest local chicken you can find, and freshly made waffles.  However, it can certainly be made easier by using convenience ingredients.  It just won't be as good. 
For the chicken and gravy:
1/2 cup butter (1 stick)
1/2 cup flour
4 cups of chicken stock (homemade is best)
1 1/2 tsp salt
1/2 tsp pepper
1/2 cup sweet marsala wine
5 cups of shredded chicken (white meat is best)
1 tbsp fresh rosemary, chopped
For the waffles:
1 cup whole wheat pastry flour
1 cup all purpose flour
1/2 tsp salt
1 1/2 tsp baking soda
1 1/2 cups yogurt or thinned sour cream
1/4 cup milk
2 eggs, separated
4 tbsp butter, melted
2 tbsp fresh rosemary, chopped
1.  Make the gravy by melting 1/2 cup of butter in a medium saucepan over medium heat. Whisk in the 1/2 cup flour and cook for about three minutes, whisking constantly (this is called the "roux").  Add in 4 cups of chicken stock, 1/2 cup of marsala, and salt and pepper.  Whisk well to make sure all of the roux mixture  is incorporated with the stock.  Use a spatula to make sure there is no roux left in the corners of the pan.  Bring to the boil so it begins to thicken and then reduce heat to medium low.  Stir in shredded chicken and simmer over medium low heat for at least 30 minutes, and more if needed.  If it becomes too thick, you can add a bit of broth or marsala.  Season to taste with additional salt and pepper and fresh rosemary.
2.  Make the waffle batter by combining the whole wheat pastry flour, all purpose flour, salt, and baking soda in a large bowl. Combine the yogurt, milk, melted butter, 2 egg yolks, and chopped rosemary in a small bowl.  In a medium bowl, take the remaining two egg whites and whisk them until stiff peaks form.  Stir the yogurt/milk mixture into the flour mixture. If it is very thick, add a bit more milk. Gently fold in the whipped egg whites into the waffle batter and stir just until combined, so you don't deflate the egg whites.  Preheat a Belgian Waffle maker and brush it lightly with melted butter.  Ladle the appropriate amount of batter onto the waffle iron (according to manufacturer's instructions) and cook until golden brown and crispy.  Repeat with remaining batter, keeping waffles warm in the oven.
3.  To serve, taste gravy for seasoning and add additional salt, pepper, rosemary, or Marsala if necessary.  Ladle a large scoop of the chicken and gravy over a hot waffle.  Garnish with additional chopped rosemary if desired.
————-
Essay by Jen Ralston who is (in a very particular order) an eater, traveler, writer, and Emmy award-winning sound editor. She was born and raised in Bloomsburg.
Recipe by Kristin Camplese who is (in no particular order) an eater, writer, photographer, cook, mother, and wife.  Also raised in Bloomsburg.  No Emmy awards, although she did win a spelling bee in 7th grade.