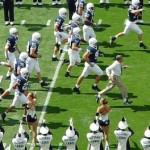 According to Onward State, "President Rodney Erickson has placed assistant coach Mike McQueary on paid, indefinite administrative leave. He will not coach or attend Saturday's game against Nebraska."
In other news, the Penn State nation began what is sure to be a slow healing process through several initiatives including Proud to Be a Penn Stater, which was raising $200 a minute for RAINN.org today, the nation's largest anti-sexual violence organization.  In addition, the Friday pre-game pep rally was cancelled in favor of a candlelight vigil on the Old Main Lawn at 9:30 PM on Friday.  On Saturday for the game, fans have organized a "Blue Out" instead of the traditional "White Out" and are selling t-shirts with all proceeds going to Prevent Child Abuse Pennsylvania.
Governor Tom Corbett and Interim President Rodney Erickson both held press conferences this afternoon, following a meeting of the Penn State Board of Trustees.  Corbett defended the termination of President Graham Spanier and Coach Joe Paterno, saying that "Their actions caused me to not have confidence in their ability to continue to lead." He went on to urge Penn State students and fans to behave responsibly at the game against Nebraska on Saturday as emotions will still be raw, "The eyes of the nation are on you. They're fixed on this campus … Please behave and demonstrate your pride in Penn State."
In his press conference, Erickson issued a promise:
1. I will reinforce to the entire Penn State community the moral imperative of doing the right thing—the first time, every time.

We will revisit all standards, policies and programs to ensure they meet not only the law, but Penn State's standard. To oversee this effort, I will appoint an Ethics Officer that will report directly to me.
I ask for the support of the entire Penn State community to work together to reorient our culture. Never again should anyone at Penn State feel scared to do the right thing. My door will always be open.

2. As I lead by example, I will expect no less of others.

I will ensure proper governance and oversight exists across the entire University, including Intercollegiate Athletics.

3. Penn State is committed to transparency to the fullest extent possible given the ongoing investigations.

I commit to providing meaningful and timely updates as frequently as needed.
I encourage dialogue with students, faculty, alumni, and other members of the Penn State Community.

4. We will be respectful and sensitive to the victims and their families. We will seek appropriate ways to foster healing and raise broader awareness of the issue of sexual abuse.

5. My administration will provide whatever resources, access and information is needed to support the Special Committee's investigation. I pledge to take immediate action based on their findings.