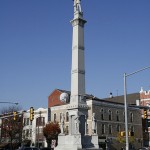 This week, I'd like to try something a little different in this column. Rather than focus on a particular topic, I want to find out what everybody's memories are of first being made to understand that not every town looks like, thinks like, eats like, or maybe just sounds like Bloomsburg.
For example:
I remember my first trip to New York City. It was by bus and we entered the Lincoln Tunnel, which you approach via an off-ramp that spirals into it from above, affording you an almost 360-degree view before bringing you down to the toll booths. As the bus was making that turn, I could see a large parking structure and I realized – there were probably more cars in that garage than there were people in my hometown!
And aside from the obvious differences in size, height, and population between Bloomsburg and New York, while I was a freshman in college there, I remember rushing to get to the bank one Wednesday and a friend asking me what the hurry was. I told her it's because banks close early on Wednesdays and she said "No they don't. Why would they do that?" And then I realized; that's a Bloomsburg thing! By the way – does anyone know why that happens? I think I've always assumed that it had to do with the farmer's market (which used to be a much bigger deal and many businesses on Main Street would close early because of it) but I'm not sure if that's really the case.
So how about it? What were your personal discoveries about the differences between Bloomsburg and any place else? Share your memories in the comments section below.