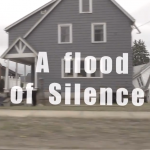 Daniel J. Bauman was the Mayor of Bloomsburg from 1982-1988 and 1994-1997, and is currently the vice chair of the Bloomsburg Area Joint Flood Control Authority. Mr. Bauman lives on West 3rd Street in a home that was not in the flood plain before 1972, yet has been flooded many times since then — with each big flood seemingly more devastating than the last.
His involvement with the flood wall and flooding issues for the town began when he was a foreman with a Bloomsburg construction company. After the devastating Hurricane Agnes flood in 1972, he became the chairperson of a cleanup committee which took charge of the removal of a large island in Fishing Creek. Part of that committee's goal was to build a dike along Fishing Creek and potentially around the Susquehanna River. Shortly afterward, Bauman ran for Town Council to deal with flooding issues.
The flood wall project has had many ups and downs and has yet to come to fruition, but Mr. Bauman has not given up the fight for nearly forty years. We had the chance to sit down with him and had a wide ranging discussion about all things flood-related in the now gutted basement of his Bloomsburg home. He was kind enough to show us his extensive library of flood photos, Army Corps of Engineers reports, and the other documentation for this 40 year fight.  This video is the first in a series of highlights from our nearly three hour conversation with Mr. Bauman.
In his words, "You can fight a fire, but you can't fight a flood. No dike is going to stop everything. Every one can be overtopped. But do you want a flood every few years, or every 100 years?"