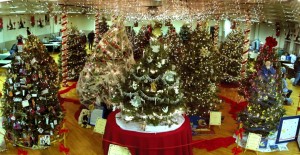 Celebrating the unique connection between the Bloomsburg Theatre Ensemble's commitment of bringing live, professional theatre to our region and the Town of Bloomsburg, TreeFest once again heralds the beginning of the local holiday season. This year, TreeFest will be held November 25, 26 and 27, and December 2, 3 and 4 at the Caldwell Consistory, located north of the town fountain at 150 Market Street.



The celebration begins with the area's growers donating over 140 trees, then hundreds of people including community volunteers, youth groups, florists and garden clubs set up and decorate the rooms and trees which are each sponsored by area businesses or individuals. TreeFest ends with the trees, decorations and other gifts going to area families in need, as identified by local social service agencies.
Throughout the event, a variety of entertainment is provided including school choirs, dance groups and folk musicians performing in front of a seasonal mural. Story times and art experiences for children are scheduled throughout both weekends. Visitors will be able to start their Christmas shopping at the dozens of professional craft artisans displaying their wares for sale.
But TreeFest has grown into so much more. A special Chinese auction, a children's coloring contest and the raffling of a spectacular quilt are some of the other highlights. The gala Chamber After Hours is set for Nov. 29 beginning at 4.30, and the Rotary Christmas party takes place Dec. 1. TeaFest, an elegant Scottish high tea, will be presented by Sharon Duff at the Caldwell Consistory on Monday, Nov. 28 at 1:00 p.m.
First-year TreeFest chairperson Bonnie Crawford has enjoyed her learning experiences. "Seeing all that goes into putting this together, I never realized how many months of preparation it took," she said. "Now I am just excited to see it all come together." Crawford is quick to thank the many volunteers who contribute to TreeFest's success. "I am also extremely appreciative of the fantastic people on the various committees. This is a truly dedicated team of volunteers who work countless hours to make this happen." 
TreeFest counts on hundreds of volunteers over the two-week period, and children continue to be actively involved. Local schools participate in a Gingerbread house building contest, guides take young children on special tours, and students from Bloomsburg, Central Columbia and Bloomsburg University help in a variety of ways but most especially as part of tear down, clean up and tree distribution which mark the end of TreeFest activities.
Official parking behind the Columbia County Court House will be available on weekends. Bring your $2.00 discount admission coupon and visit www.treefest.org for specific hours.
Bloomsburg Theatre Ensemble is celebrating 34 years of bringing live, professional theatre to the Bloomsburg and regional community. All TreeFest proceeds benefit BTE.
Article by Sam Bidleman
Photos by Marlin Wagner