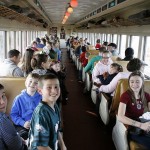 "I see it!", "Look Mom, there's the train!" Everywhere there are small voices echoing with excitement and wonder. A reminder that even in the most challenging times, magic is still here if you take the time to see it. The North Pole Express train ride offered just that opportunity for yound and old. A time to forget about the stress of every day and of the difficult task of rebuilding lives for those who lost so much in this year's flood.
"All aboard!" The conductor announced and it was time to sit back and enjoy the trip down the rails. As the train traveled towards Catawissa, a sad reminder of the devastation this area experienced a few months ago was visable. Ponding water, debris in the trees, and more all still there. So much left to do, but for this hour it was a time to feel the magic of the season and watch the faces of wonder on all the assembled children when the "Big Guy" himself arrived.
The North Pole Express is truly a wonderful ride, a wonderful collection of people, and a time to enjoy family and new friends. Most importantly however, a time to remember to hear those bells ring. From all of us at The Bloomsburg Daily, we hope you always hear the silver bell ring.
A special thanks to Bob Rush for not only enjoying the ride, but for taking the pictures and writing the story.