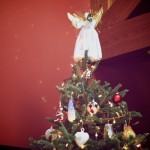 Unless you were the ambitious sort that got your Christmas tree up after Thanksgiving, you might be working on that task this weekend.  We asked the editors of The Bloomsburg Daily to think back to putting up their trees and recall the good, the bad, and the ugly of the event.
Kristin Camplese doesn't really remember where her family would get the tree, just the arguments (or "discussions" as parents call them) about getting the tree in the stand.  "Pre-drilled stands didn't exist and it required parents holding the tree and screwing in the stand simultaneously, which inevitably ended up with a crooked tree and some not-so-magical holiday memories. It was all good in the end when the tree was decorated and my dad's train was circling around it, but there were always some pretty sketchy moments leading up to that."
Bob Rush said this: "My dad would always have a tree. Being in business he had friends that sold them. He would always put it up on empty egg cases and put the train around it. I alway liked the bubble lights. In the 60s my mom got a new aluminum tree! They were the thing then. They shined a lite on it with rotating colors. I was always more interested in what was under it!"
Not all trees were the kind you had to cut down. Cole Camplese recalls going to the attic in his Grandmother Camplese's house in Wheeling, WV where they would pull out a fully decorated (lights and all) aluminum tree. "It was a spectacular silvery blue color, to this day I've never seen anything like it!"
What are your Christmas tree memories?  Real or fake tree? Where did you go to get it?  What adventures did you encounter?  Were you a colored or white lights family?  Which ornaments do you remember in particular?  Did you have tree drama (a victim of it tipping over, perhaps?), or did you have interesting or fun traditions?  Tell us all about it!