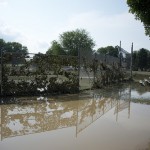 Bloomsburg's Little League fields, located in the town park, were destroyed by the flooding last month. While volunteers have come from as far away as Rochester, NY to help with clean-up, the work is far from over.
"Our goal is to finish planting grass (on the fields) by the end of the month," said League Treasurer and Administrator Leslie Chyko.
The concession stand, which also serves as off-season storage for the league, took in twelve feet of water and needs to be completely rebuilt. In addition to that structure, three of the dugouts need major repairs and most of the league's equipment was lost as well. Chyko estimates the repairs and replacements will cost around $10,000.
Chyko says the league reached out to major and minor league teams and has received items from several teams, including the Pittsburgh Pirates, Wilkes-Barre Yankees, and Baltimore Orioles. They will put all these items up for auction to help raise money for the clean-up projects. There will be a fundraising raffle with all-you-can-eat buffet at the Bloomsburg Fire Hall on Sunday, December 4th, starting at 1pm. Tickets are $30.
Chyko suggested those interested in purchasing tickets for the raffle, volunteering or donating supplies can contact the league through their Facebook page.
Individuals wishing to donate money may also send checks to:
Bloomsburg Little League
P.O. Box 26
Bloomsburg, PA 17815