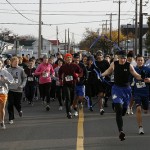 On Saturday November 12, 2011 over 200 people turned out to support the Run to Rebuild 5K, including a team sponsored by The Bloomsburg Daily. Also spotted completing the race was Bloomsburg Mayor, Dan Knorr. All proceeds will be donated to the Columbia County Volunteer Organization for Disaster Relief. The organizers had hoped for a decent turnout to the hastily organized event, by all accounts it exceeded their expectations. The Bloomsburg Daily is so proud of everyone who organized and participated in this wonderful event!
Results
Top male finisher/overall was Mike Lewis with a time of 15.21, top female Amber Aladeff with a time of22.45. 216 finishers, youngest was seven, oldest 62. Bloomsburg's Mayor participated with a time of 28.20. There were team members from Central Columbia High School Cross Country as well as Shenandoah High School. Additionally, there were runners on hand from Mid Penn Trailblazers, Striders Running Club, and various BU Fraternities and Sororities.
The organizers would like to thank S.O.L.V.E. Office, Dunkin' Donuts, Bloomin' Bagels, The Bloomsburg Daily, BU Students Veterans Assoc., PEPSI, Road ID, Lightstreet & Bloomsburg Fire Police, BPD, Jen White, Mark Bauman and Jean Downing along with all the runners, volunteers and their familes. Together over $1800 dollars was raise for Columbia County Volunteer Organization for Disaster Releif.