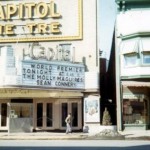 Remember when Bloomsburg had a Drive-In Theater? How about when there were movie theaters on Main Street? Did you know that not only was there the Capitol and Columbia, but at one time there was also a Nickleodeon on the west end of Main Street? This week we share our memories of being At The Movies.
My earliest movie memories are all tied to the Capitol. Remember when it was all one theater with a balcony instead of two screens? The ceiling had the most beautiful and intricate medallion on it — probably a leftover base from a chandelier that was before my time. I always got to the theater early so I could get my favorite seat (the middle of that center row, the row that had no one in front of it so short people like me could never get stuck sitting behind a tall person). I must have spent hours over the years, staring up at that medallion, listening to that tape they played before the movie started. Do you remember it? "I've been to Paradise (But I've never been to me)," and "The Age of Aquarius" were on there. Does anyone remember any of the other songs they used to play before the movies at the Capitol?
And remember that side exit they would open when the movie was over? Remember the mask that hung in the alleyway?  
The first movie I ever saw was Star Wars at the Capitol. I was only five years old so I fell asleep before the Death Star blew up. But I went back to see it many many times after that and was so in love with movies because of it, I knew I wanted to work on them when I grew up. And now I do! What was the first movie you saw in town? Which theater was it in? And does anybody remember when the Capitol showed "The Molly Maguires" (see this column's photo)?
………………………………
I only have one memory of the Columbia Theater. By the time I was a movie-goer, that theater had fallen into quite a state of disrepair but they showed "Raiders of the Lost Ark" so I had to go there! About…14 times!
………………………………
Dave Henrichs has these Bloomsburg movie memories:
"I remember waiting in line for the first Batman movie with Michael Keaton.  The line was down the street to get into the Capitol!!!  But the first movie I remember seeing there was the first Muppet Movie with my mom, sister and grandmother…."
………………………………
Cole Camplese has these Capitol memories to share:
"I remember when Kramer vs Kramer was there and the lines were around the corner. The same thing happened for ET, the Muppet Movie, and Jaws. All movies I saw at the Capitol!"
………………………………
And Jack Edwards learned a valuable life lesson at the movies in Bloomsburg:
"There was a movie I wanted to see at the Capitol, 'Green Mansions' I think it was. It was a beautiful summer afternoon so I emptied my piggy bank, and with my life's savings in my pocket I walked out to Old Berwick Road and waited for the next North Branch to come by. I got off at the corner of East and Main and headed towards the Capitol theater, window shopping along the way. About three doors from the theater, there in a store window, were two new hot rod model car kits, "The Green Hornet" and "The Black Widow". It was a tough decision, but I chose the Green Hornet, $1.49, and counted my money one more time. I had it made! But when she gave me the total, there was this thing called 'sales tax'! Now I was a nickel short of the 25 cents it took to get into the movie!
I needed a loan, so I walked down Main Street to Grammy Edwards' bake shop. Grammy wasn't there! She was running an errand and Nola, the lady who worked for her, was taking care of the store. Now what?
Nervously, I explained my predicament to Nola and asked if she thought Grammy would mind loaning me a nickel. She laughed and said, "Of course not", and handed me a dime from the cash register.
After the movie I walked down to my grandparents' house on Railroad and Third where I was to meet my parents. I had to explain my financial obligations to my mother. She wasn't too happy about it. She looked me in the face and said, 'Don't you ever again buy anything you can't pay for!'"
What are your Bloomsburg movie memories? Add on to the conversation below.
(Photo Courtesy of Jack Edwards)